November 2021
UKCOA Member Interview – Longmynd Travel of Shrewsbury
In the latest interview with members of the UK Coach Operators Association (UKCOA), Peter Bradley converses with Val Sheppard-Evans of Longmynd Travel.
Nestled on the edge of the Shropshire Hills in Lea Cross, not far from Shrewsbury, you will find Longmynd Travel. Formed in 1973 and named after one of the natural landmarks in the county (Long Mynd, which means Long Mountain), it now operates 22 coaches on a variety of work.
The company was originally set up by George and Joan Evans in Snailbeach with one vehicle operating a school contract. The business has expanded over the last 49 years, which included a move to Lea Cross, and additional family members have joined as a result.   Val Sheppard-Evans, George and Joan's daughter, now runs the company with Mark Sheppard, her husband, looking after the operational and maintenance side. Their son Matthew Sheppard-Evans also works alongside them. Joan however is still involved and drives school contract routes on occasions.
Val has always been keen to ensure the company is involved in a variety of
work and this includes school and college routes, sporting events, private hire, corporate hospitality and even a small programme of day excursions. However, one of their specialities is corporate sports work, and the business provide away travel for four football clubs including Shrewsbury Town FC.
Longmynd Travel's fleet has a variety of coaches with seating ranging from 16 to 70 seats and specifications from Standard to Corporate to reflect the different requirements of customers. Val commented that they tend to hold onto coaches and regrade them as they mature in years!
I asked Val about what she saw as the main challenges for the coach industry in the years ahead. "Without a doubt", she said, "it is 'going green'. I really do not know what the solution is for the longer distance coach. Electric vehicles especially concern me. I might just be able to get a coach from Shropshire to London, but how on earth do I get it back? It is not just the vehicle that I am worried about, but the infrastructure that will need to be provided to support the operation".
Val has been involved in studies undertaken by The Centre for Research into Environmental Science & Technology (CREST), which is based at University Centre, Shrewsbury looking at biodegradable fuels. However, she feels that much more work is required on all the options to replace diesel before a solution emerges. "We need a tried and tested alternative that we know is going to last the lifetime of the vehicle, and to stand up to the everyday rigor of coach operation".
Val also mentioned PSVAR. Whilst she was relieved to receive the news about the extension of the current derogation for Home to School and Rail replacement services, she is very keen to see the matter resolved once and for all. We spoke about the review of PSVAR currently being undertaken by the DfT and DPTAC (Disabled Persons Transport Advisory Committee). "I do hope that manufacturers will be involved in this process" said Val, "as it would be great to have a set of regulations that are suitable for all coaches and those that use them, no matter what journey they are undertaking. I am very supportive of the work undertaken by the UK Coach Operators Association and other trade bodies in supporting operators though the discussions with the DfT"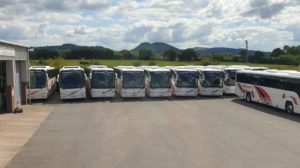 Finally, I asked Val what she was most optimistic about. "The future" she said straight away. "In normal times the phone never seems to stop ringing and we have been very encouraged by the demand for our vehicles for all sorts of work. At the end of the day this is what it is all about".

Peter Bradley
Managing Director
UK Coach Operators Association